"The program was very effective because it was clear cut. Student-athletes need to be hit with more real life situations, and that's exactly what the program did. They told us what battery is, sexual assault, sexual harassment. They didn't just read the definition, they gave us scenarios…One thing the program was good at was giving us a plan…"
Jemalle Cornelius
Former Football Student-Athlete, University of Florida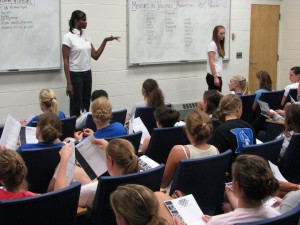 MVP tailors training programs and curriculum for the organizations we serve.  Organization specific curriculum is available for high school and college groups, community and governmental organizations, athletics, military and corporate settings, among others.  The chief curricular innovation of MVP is a training tool called the Playbook, which consists of a series of realistic scenarios depicting abusive male (and sometimes female) behavior. The Playbook – with separate versions for men and women — transports participants into scenarios as witnesses to actual or potential abuse, then challenges them to consider a number of concrete options for intervention before, during, or after an incident. Many people mistakenly believe that they have only two options in instances of actual or potential violence: intervene physically and possibly expose themselves to personal harm, or do nothing. As a result, they often choose to do nothing.
In additional to MVP Playbooks, MVP also creates original teaching materials to raise participant awareness about the complex dynamics involved in gender violence.  All of these materials foster genuine dialogue amongst participants in training groups.